Securing Financial Support From Local Authorities To Match Empty Homes Community Grants Programme Funding.
Somerset Care & Repair secured £1.46m via the DCLG's Empty Homes Community Grants Programme and through a mix of lease/purchase & repair has created 40 "new" units of accommodation between 2012-15.   In order to commit its allocation the organisation worked closely with several local authorities to secure  match funding.
" SC&R have built an excellent working relationship with the LA's" said Kevin Lake , SC&R's Director " having dedicated Planners and Building Control Officers, as well as Empty Homes Officers, means that they understand what we are trying to achieve and why. It has led to pragmatic solutions to problems, a greater understanding about issues which effect both organisations and has created an excellent working relationship which has led to potentially expanding services beyond the initial empty homes programme, such as half-way houses for those leaving care. The additional funding has made it possible to bring back into use many properties which would otherwise have not been financially viable".
South Somerset District Council £191k
£191,000 grant funding to date from SSDC . This additional funding has permitted 15 properties to be brought back into use which would have not been financially viable without it. All of these properties are classed as long term empty (over two years) in one case 47 years empty and ranged from one bed flats to three bed houses. They are now housing a total of 45 people who were in greatest housing need.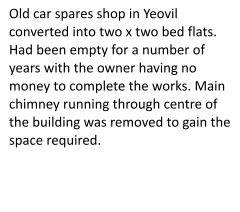 Mendip District Council   £45k
£45,000 grant funding  from MDC towards the conversion of the Gatehouse in Frome  empty for 12 years and converted into 2 x 1 bed flats and the property below in Glastonbury which was empty for four years,  converted from a sweet shop and wedding car hire business into 2 x 3 bed, 1 x 1 bed and 1 x 2 bed properties. .
Total number of people housed in these two properties was 12. Gerald in the Gatehouse was living in a small mouldy, very damp privately rented bedsit. He was drinking and smoking things other than cigarettes, he had been unemployed for many years. Having been housed by SC&R he worked as a volunteer found that he had some "life worth", stopped smoking, reduced his alcohol consumption to social levels and has found a full time meaningful job locally.
Young couple upstairs worked for the same firm which went into liquidation, so they both lost their jobs at the same time and as a consequence their rented accommodation. They were independently sofa surfing on friends couches and as they had no permanent address could not get work or claim benefits. Having been housed and supported by SC&R, they are both now working.
The three bed property below now houses a family which included two young people suffering from severe learning disabilities. Moving into this property has allowed the children to attend a special school locally and because there is no longer lengthy travelling times involved, it has permitted the mother to work part-time to increase the families income.
Funding To Future Work
Sedgemoor and West Somerset District Councils
£330,000 for empty homes and flats above shops grant funding has just been agreed .This money is being made available through EDF Hinckley Point Nuclear Power Station development and will be given as a maximum of £15,000 grant per property. This funding is split between Sedgemoor and West Somerset District Councils and is again split between houses and developing accommodation above shops. This has led to preliminary, outline discussions with town planners about how SC&R might become directly involved with helping to revitalise Bridgwater Town Centre and how our successful Active and In Touch programme of creating neighbourhood groups and social inclusion could possibly be extended into estates within Bridgwater.
£50k for co-ordinator post for trainees working on SC&R empty Property Programme. EDF funding has been has been made available for this post to build upon the current SC&R pilots and to create further links into colleges, Probation, DWP, employers and local authorities and forms the cornerstone to the use of the funding above.
First proposed renovation for Sedgemoor & West Somerset
Proposed  Future Funding ( subject to further negotiation)
South Somerset  District Council
£100,000 Grant funding  for the financial year 2015/6. This is grant funding to a value of £11k per property and SC&R  have put forward a proposal to use it to create loans which will be recycled. This is under consideration .                                                                                                                               June 2015